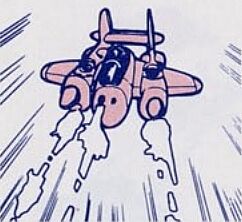 The 3 Way is a recurring weapon in the 1940 series, first appearing in 1943: The Battle of Midway. It was originally represented by three-barreled turret icon, but later got represented by three bullet pattern icon.
In 1943, the 3 Way fires four streams of bullets simultaneously, two to the front and two to the sides, forming an arc. This weapon is perfect for clearing the screen from smaller enemies, but fails against more durable targets, unless the player gets very close to the enemy to maximize the damage.
This weapon appears again in 19XX: The War Against Destiny, where it is the preferred weapon for the de Havilland Mosquito. It will fire three streams of missiles, again in an arc. When powered up, it will fire extra missiles on the front.
Gallery
[
]