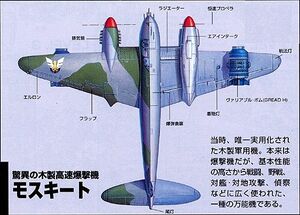 The de havilland Mosquito is a recurring selectable fighter in the 1940 series. It's first appearance was in 1941: Counter Attack.
Real World Information
[
]
The de Havilland DH.98 Mosquito is a British multi-role combat aircraft with a two-man crew which served during and after the Second World War. It was one of few operational front-line aircraft of the era constructed almost entirely of wood and was nicknamed "The Wooden Wonder". The Mosquito was also known affectionately as the "Mossie" to its crews. Originally conceived as an unarmed fast bomber, the Mosquito was adapted to roles including low to medium-altitude daytime tactical bomber, high-altitude night bomber, pathfinder, day or night fighter, fighter-bomber, intruder, maritime strike aircraft, and fast photo-reconnaissance aircraft. It was also used by the British Overseas Airways Corporation (BOAC) as a fast transport to carry small high-value cargoes to, and from, neutral countries, through enemy-controlled airspace. A single passenger could be carried in the aircraft's bomb bay, which was adapted for the purpose.
When production of the Mosquito began in 1941, it was one of the fastest operational aircraft in the world. Entering widespread service in 1942, the Mosquito was a high-speed, high-altitude photo-reconnaissance aircraft, continuing in this role throughout the war. From mid-1942 to mid-1943, Mosquito bombers flew high-speed, medium or low-altitude missions against factories, railways and other pinpoint targets in Germany and German-occupied Europe. From late 1943, Mosquito bombers were formed into the Light Night Strike Force and used as pathfinders for RAF Bomber Command's heavy-bomber raids. They were also used as "nuisance" bombers, often dropping Blockbuster bombs – 4,000 lb (1,812 kg) "cookies" – in high-altitude, high-speed raids that German night fighters were almost powerless to intercept.
For more information see the Wikipedia Page
In the Games
[
]
1941
[
]
For his debut, The Mosquito is given a light brown paint job. It appears as the Player 2 ship, while Player 1 controls the traditional Lockheed P-38 Lightning. Since the ships are tied to each player, both control the same.
19XX
[
]
The Mosquito appears as one of the three selectable ships, along with the P-38 and the Shinden, and is given a new green paint job. The mosquito is the strongest of the three ships, having higher firepower at the cost of speed and mobility. It is best equipped with the 3 Way Missile weapon, which fires missiles at three directions in an arc and when upgraded it becomes the 5-way Missile, with increased range but weak attack power.
Joint Strike/First Strike
[
]
Returning once again as a selectable ship, the Mosquito is more or less identical to it's 19XX version, being once again the strongest ship.
Gallery
[
]